Something Long I can't Pronounce
The name of this dish was something long and ridiculous in Indian that I'm pretty sure just translated to the names of some of the vegetables involved. "Minty Broccoli, Tomato and Cauliflower" or something along those lines. I got the recipe from the New Indian Vegetarian Cookbook.
The real star of this dish was the spur-of-the-moment chutney I made to top it. I mixed together tamarind paste and minced mint, and a bit of salt and powdered ginger, to make a tangy sauce that really made the veggies special.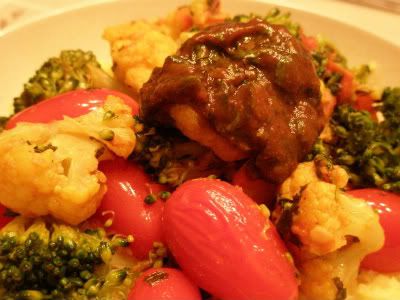 Without the chutney this would have been pretty bland and unexciting, but then so is pasta..I suppose that's why we invented sauces…those smart chefs! I served the concoction over saffron rice, and set it off with a glass of pineapple juice…I'm completely obsessed with the stuff…good thing it doesn't have any of that High Fructose Crap the corn refiners would have you think is GOOD FOR YOU.
Selah.