Sesame Tofu with Apricot Sauce
I almost don't want to admit this came from a Rachael Ray cookbook…it was so darn good. Then again, the recipes in Rachael Ray's Best Deals in Town on $40 a Day come from the places she visited…and this was by no means a thirty minute meal.
The recipe was actually for Sesame Chicken, but who wants to eat the closest living relative of the T-rex? Not me, said I. It was a multi-part recipe, in that we had to make a marinade and soak the tofu in it, assemble a vinaigrette for the sesame noodles, create an apricot-balsamic sauce for topping, chop up herbs for the noodles, and then coat, fry, and bake the tofu.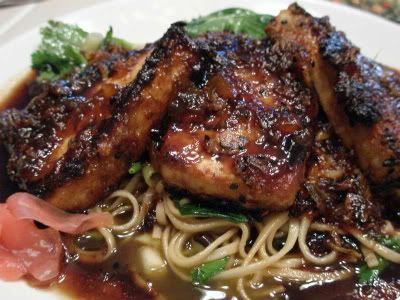 All I can say about this was that it's worth every SECOND. I would've DRANK the apricot sauce if I could, it was just that good. The only change I might make is baking the tofu before coating and frying so that it is a bit chewier, but other than that, perfect!!! This recipe alone is probably worth finding the book.
Selah.