African Stew over Couscous
It got pretty chilly last night, so I was in the mood for something hearty…enter stew. I picked out the African Stew from Vegetarian Planet only to discover that I didn't have three of the vegetables…which basically made up the soup. I decided to improvise anyway, and replaced sweet potato, collards and cauliflower with baby bellas, carrots, and chickpeas. Everything else remained as is.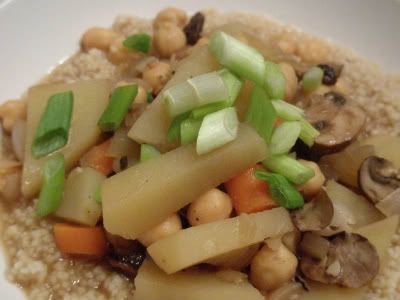 I think the sweet potato was more integral than I'd imagined, since the sweetness would have been a good partner for the raisins in the recipe. (yup, I said raisins). I served this up over simple, unseasoned couscous, which in hindsight could have used some salt and pepper…or cooking in broth instead of water. I was eating the stew and remarking that it was pretty bland…when I remembered the recipe instructing to top it with hot sauce. With the addition of some Hot Asian chili paste, this was MUCH better. I'd like to try the original recipe sometime as well…you know…when I actually have everything for it.
Selah.