Banana Bread
I finally found a baking recipe that even I can't screw up….probably because there are fewer than ten ingredients and the directions are very clear. You know how sometimes you go to grab a banana off the bunch, and in twisting the stem, manage to rip all of them at the top? Once that happens, you must immediately go into "salvation mode", since none of the bananas will last long in this condition, regardless of what state they were in. When my boyfriend went to grab the third-to-last banana today, he did just that…and with two bananas remaining, and the clock ticking…I decided to attempt my first EVER banana bread.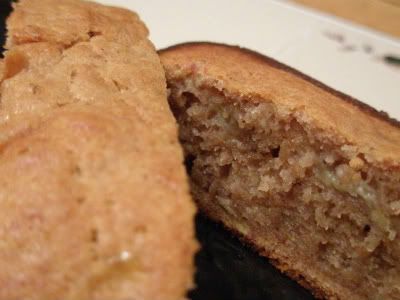 The recipe I used came from here and for once, I can't say I made a single change…I even measured things out. Although it deflated a bit when cooling, this was so good that my significant other said he'd "accidentally break more bananas" in the future, just so that I can make more. The bread was also not too "banana-y", which I can really appreciate, because sometimes I feel it's a bit overdone, and the bread is closer to a pudding than a loaf.
Moral of the story? If I can make this successfully, you definitely can, and with some "energ-egg", I'm sure they're easily veganizable.
Selah.